Mobile App Recommendations
For Habit Aware
Users: People who suffer from trichotillomania, a body-focused repetitive behavior (BFRBs) classified as an impulse control disorder which involves pulling out one's hair.
Methods: Competitive Audit I Rapid Prototyping I Journey Map
Tools: Sketch I Mural I Axure
The Challenge
Create a prototype of a more robust app for Habit Aware's "Keen" tracker that helps users take control of their hair pulling, skin picking, and nail biting.
The Solution
Focus the new App features added on:
Setting frequency and deflection goals

Logging data around deflections, emotions, where and when BFRB occurs

Visualizing short and long term data and goal achievements
The Approach
To empathize with users working to manage BFRBs, brainstorm what solutions could be possible, and asses which solutions are desirable for users and possible for developers.
What will a user journey look like?
In creating a user journey map, it was clear that the opportunity area for better meeting user needs is in the acclimation and use of the keen. Users are notified of their BFRB behaviors and it can be overwhelming and discouraging when starting out with Keen.
Rapid Ideation
As a team we became acquainted with this sphere of behavior tracking through research and a competitive audit. We then conducted rapid prototyping to come up with as many ideas for Habit Aware ideas as we could. Keen's developer then came in to discuss development time for each feature to help us pair down recommendations to 6 weeks of development time.
What features do users want?
We conducted a Kano Analysis survey with current Keen users to understand what potential feature would be "must-be quality" features, "attractive quality" features, "indifferent quality" features, and "reverse quality" features. Understanding the these features in this level helped us make decisions about what should be included.
Wireframes
These proposed features will help make facing BFRBs more manageable and attainable by acknowledging that there are many steps along the way in managing Trichotillomania.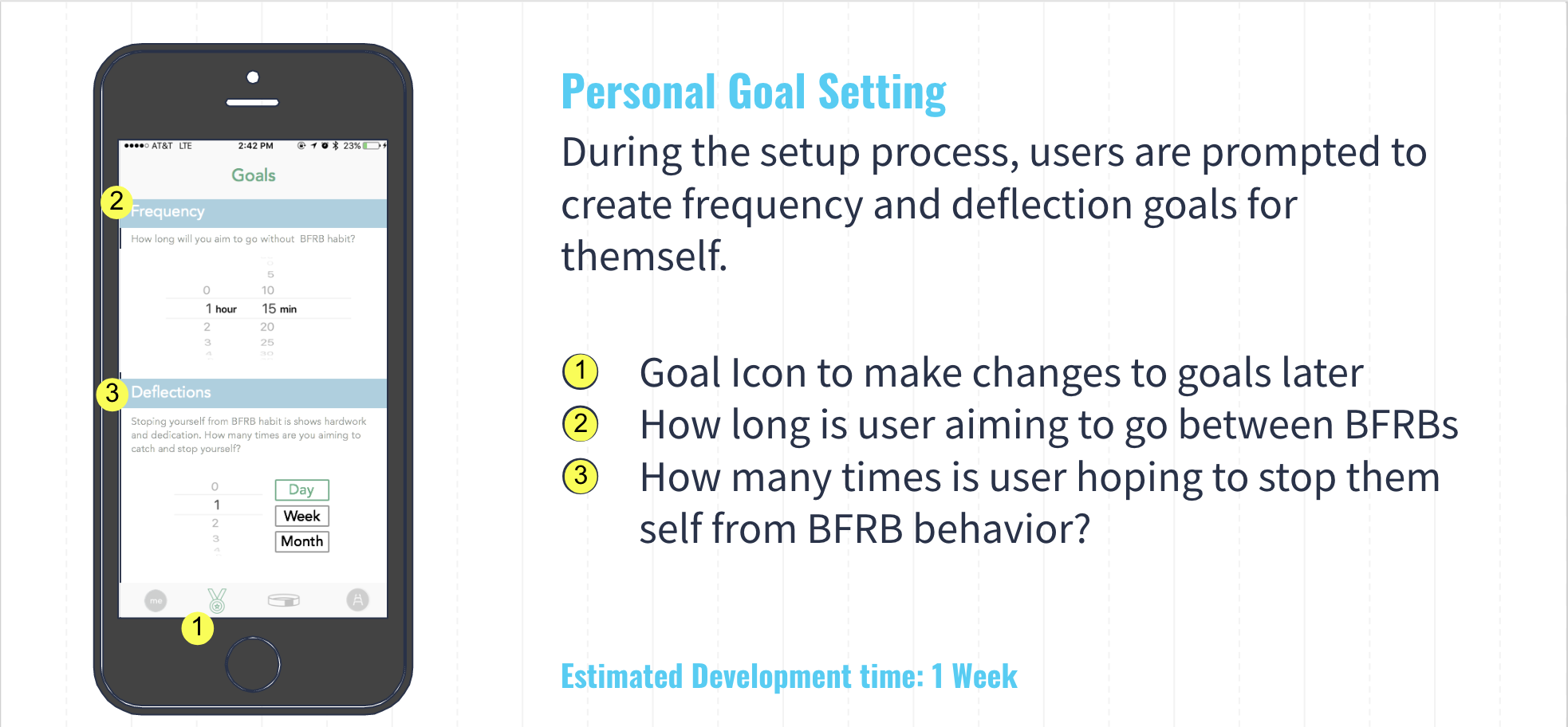 Interactive Prototype of Features
In order to better understand the interactivity of the recommended features, a tour in Axure was created.